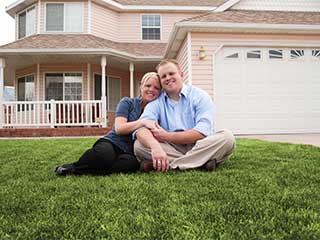 When people think of doing something special for their loved one on Valentine's Day, they usually try to reserve a table for two in one of the fanciest and most expensive restaurants in the city. Celebrating Valentine's Day with your significant other does not have to revolve around splashing cash and going all out with your expenses. Sometimes, displaying a bit of creativity with what you have at home can be far more appreciated by the person you are trying to impress. If there isn't a lot of empty space inside your home, you can always resort to the garage for setting up the perfect Valentine's Day surprise for that special someone in your life. In fact, you do not even have to be a DIY expert to turn your garage into a cove of love and passion. All you need is a bit of enthusiasm to make this day memorable. Here are some decoration ideas that you can bank on:
A Classic Valentine Wreath
Simplicity is often the hallmark of real beauty. A Valentine's Day decoration plan does not necessarily have to be extremely extravagant. You can keep things simple and stick to norms by creating a wonderful Valentine wreath. It does not take much effort, and you do not have to be a creative genius to make this with your own hand. There are plenty of DIY tutorials on the internet which demonstrate how a classic valentine wreath can be created using the simplest of materials. Once you are done making it, you can hang it on the garage door to let your loved one know that there is a big surprise waiting for him or her on the other side of the door. The suspense will only add to the romance in the air.
Valentine's Day Countdown Notes
One of the easiest ways of making Valentine's Day special is by hyping it up as much as you can. And there is no better way of making people wait in anticipation for a big day than to have them go through a countdown. To make the countdown fun and romantic, you could create or purchase a frame and then attach notes within that frame. Ask your loved one to pick out one note per day till all of them run out just in time for Valentine's Day. You can handwrite short messages of love in each of these notes and have them wrapped in beautiful pink, white or red envelopes. Placing the countdown frame in the garage would be a great idea because then your loved one can pick out a note just before heading out of the house in their car.
Shooting Cupid's Arrow
Romance and excitement go hand in hand. If you want your loved one to remember your efforts of making this year's Valentine's Day special, then you need to think of a creative way of getting them engaged in an activity that exhilarates them and reminds them just how fun and considerate you are as a partner. You can come up with your own Valentine's Day game by creating Cupid's arrows with simple household items. Once the arrows are made, you can move on to creating a Cupid's bow and an adorable target that you can suspend on the garage door The idea is to give the game of darts a Valentine's Day theme. If all goes well, then your loved one will have no option but to be amused by your creative endeavor.
If some part of your door needs to be repaired or replaced, remember that our experts at Garage Door Repair Gurnee are the ones to call.