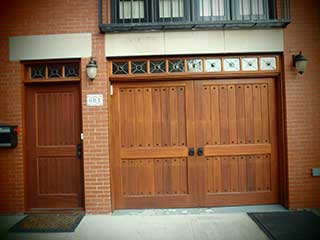 There are a lot of decisions to make when the time comes for you to get a new garage door installed. One of those decisions will be the material that you use. This can seem like an easy choice to make, but once you start seeing all of the options, things can get a little overwhelming.
A Few Common Choices
Even with all of the options, it's quite easy to narrow down your choices by simply considering your budget, space availability, the look you are going for, and the price. No matter what your specific needs, there are options out there for everyone. So, let's look at the choices you have.
Wooden Door Options
Wooden doors are definitely the most beautiful doors out on the market, as well as the most versatile. Their look is considered "classic" and their curb appeal is second to none. No matter what look you are going for, you can probably find a wooden door that fits your needs. This material is known for its natural insulation qualities. However, wood does have a few downsides as well. It requires a lot more regular maintenance and often tends to be pricer as well.
The Composite Option
If you want to get a wooden door but find it to be too expensive or too high maintenance, then you might want to look into the composite wood option. This material is basically an artificial, lighter, and cheaper version of wood. That means it's much more affordable and doesn't have the downsides. Getting it customized to however you want it is no problem, maintenance won't be as much of an issue, and it will overall be a more pleasant experience. However, it can sometimes be easy to tell the difference between real and faux-wood so if authenticity is what you are going for, this probably won't be the best option for you. On top of that, composite material will be more easily damaged than real wood, and won't be as insulating either.
Going With Steel
Steel doors are a popular choice for many homeowners today because of their relativly lower maintenance requirements (compared to wood at least), as well as their durability and increased security. You can find pretty much any design you like with this material. Remember that steel can rust, though, and isn't naturally insulating.
The Aluminum Choice
Aluminum is also a popular choice because of its lightweight and low maintenance requirements. Even after getting then insulated, their weight shouldn't be a factor for the majority of openers. Of course, aluminum doors are more easily damaged and dented, so strong weather conditions may affect them more easily.
Vinyl Door Options
If you're worried about your garage door getting damaged easily or don't want to have to bother will some regular maintenance, then vinyl might be the choice for you. This material is a type of man-made plastic that's known for being very strong and durable, as well as resistant to moisture. It's virtually indestructible, really, so it can be a great choice. However, it tends to cost a lot more than the other options.
Contact our team at Garage Door Repair Gurnee today to consult with our experts about which material is the best one for you.