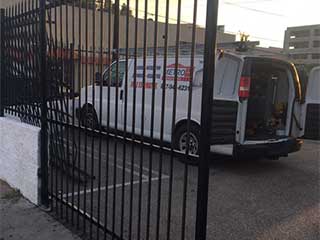 If your automatic gate stopped working for some reason, your daily routine can grind to a screeching halt. Dealing with these types of systems can be very complex, and potentially also dangerous if you don't know exactly what you're doing. That's why you need to leave things up to our team.
Finding And Fixing Problems
Like any complex mechanical system, a swinging or rolling gate can malfunction for any number of reasons. The track can develop dents, the hinges can rust and the intercom system can stop functioning properly seemingly out of the blue. Even the opener is not exempt. Its motor gear can wear out or some part of its circuit board can become fried. No matter where the problem lies, our team will quickly identify the root cause of the issue, and apply the perfect solution that will get your system working again. Our technicians are highly experienced and can handle a wide range of problems.
Commercial and Residential Services
Whether the gate of your private residence broke down, or the one that guards your place of business got stuck halfway and is preventing people from entering or leaving, our team can help. Thanks to our great wealth of knowledge and experience, we're able to resolve all sorts of issues, regardless of the components that are causing them. We can also help you choose a new gate for your home or business. We'll make sure you find one that both enhances your curb appeal and increases your perimeter security.
Contact Us Today
If your gate broke down and you need to get it working again quickly, all you have to do is call our experts at Garage Door Repair Gurnee. Our technicians will work fast and efficiently to get all your problems solved, no matter what caused them.